Introduction

The historic Deokon Au-Ag mines are located in the central-southwestern part of South Korea, in the Jeolla-buk Province. Post-war mines department records show production resumed between 1958 and 1980, when a Korean national company, registered as The Deokon Mining Company Ltd., re-developed the multilevel underground mining operations at both the Main Mine and the Shin Adit prospects (Figure 1), on a series of through-going highly silver-gold mineralised, dacite-hosted lode- and vein-zones.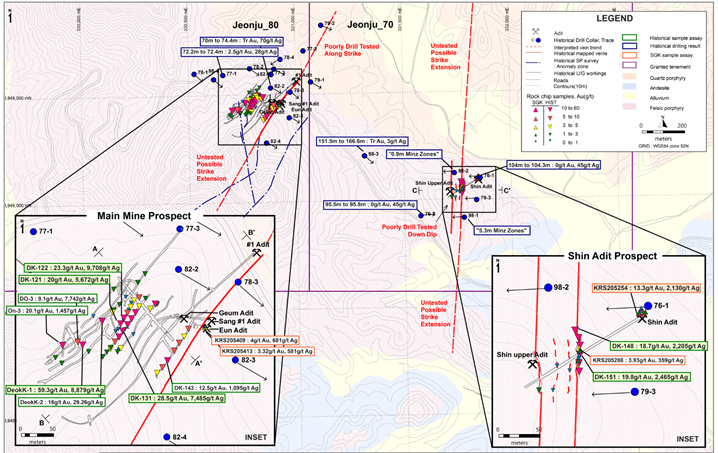 Figure 1: Detailed Plan view of the Deokon Project, highlighting numerous bonanza gold-silver grades at the historical mines.
Recent Exploration
First-pass assessment of the Deokon Project was undertaken by Southern Gold Korea in April 2018. Work conducted included systematic traversing, extensive rock chip and grab sampling of the 'Shin Adit' lode and vein system at surface and an initial sampling exercise throughout an accessible lower access drive. Reconnaissance and sampling along strike to the north of the Shin workings in excess of one kilometre was conducted with sampling of vein exposures in the entrance of a single open adit in the 'Main Mine' Workings to the west.
| | | | | | | | |
| --- | --- | --- | --- | --- | --- | --- | --- |
| Line ID | NAT Grid_ID | NAT_North | NAT_East | NAT_RL | Sample Type | Au (g/t) | Ag (g/t) |
| KRS205254 | WGS84_52N | 3949098 | 331844 | 224 | Rock Mullock | 13.3 | 2,130 |
| KRS205231 | WGS84_52N | 3949099 | 331848 | 224 | Rock Mullock | 9.23 | 1,080 |
| KRS205229 | WGS84_52N | 3949100 | 331846 | 224 | Rock Mullock | 7.65 | 558 |
| KRS205409 | WGS84_52N | 3949452 | 330923 | 319 | Rock Outcrop | 4.00 | 681 |
| KRS205288 | WGS84_52N | 3949057 | 331770 | 224 | Rock Mullock | 3.93 | 359 |
| KRS205413 | WGS84_52N | 3949452 | 330923 | 319 | Rock Outcrop | 3.32 | 581 |
| KRS205410 | WGS84_52N | 3949452 | 330923 | 319 | Rock Outcrop | 1.66 | 574 |
| KRS205287 | WGS84_52N | 3949054 | 331771 | 224 | Rock Mullock | 1.65 | 124 |
| KRS205412 | WGS84_52N | 3949452 | 330923 | 319 | Rock Outcrop | 1.39 | 333 |
| KRS205302 | WGS84_52N | 3949042 | 331769 | 224 | Rock Mullock | 1.15 | 70 |
| KRS205240 | WGS84_52N | 3949099 | 331851 | 224 | Rock Mullock | 1.05 | 191 |
| KRS205253 | WGS84_52N | 3949098 | 331843 | 224 | Rock Mullock | 1.01 | 133 |
Table 1: Rock Sample Assays (>1.0 g/t Au) from rock samples at Deokon mine.


This was followed up with first phase of systematic underground channel sampling in August 2018, demonstrating the ability to commence work quickly on newly acquired tenure. The aim of the program was to safely and systematically test the historical Shin Adit Mine to verify historically reported high-grade gold-silver results, survey the workings to have location confidence and geologically map lithology and structural controls on mineralisation (Figure 2).
Line ID
Sample Type
Interval (m)
Au (g/t)
Ag (g/t)
FS224S1_08
Channel
0.35
12.6
509
FS224S1_07
Channel
0.40
9.26
1,156
FS224S1_06
Channel
including
0.75
0.25
5.31
12.3
527
1,290
Table 2. Deokon Significant Channel Sample Results (>1.0 g/t Au)


Figure 2. Plan View of Underground Sampling Results from the historical Shin Adit Mine, Deokon Project.


In March-2019, a geological consultant, expert at epithermal mineral systems, was deployed to advance technical assessments of several projects in preparation for drilling. This resulted in multiple veins being identified at district scale, including a new area on the eastern side of the Project that returned 78.6 g/t Au and 13,000 g/t Ag in a "float" sample KRS205352 (Figure 3 and Photo 7).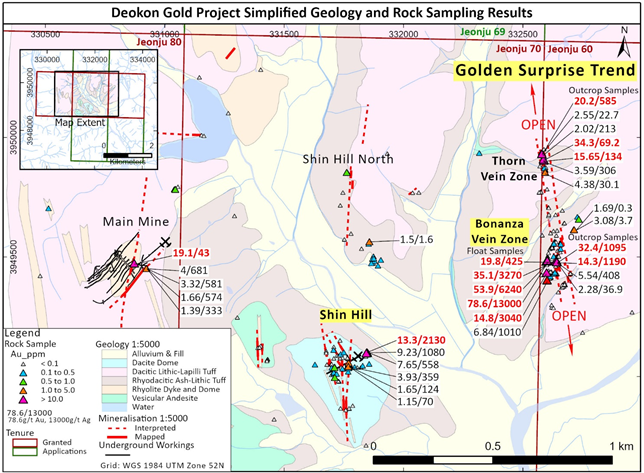 Figure 3: Plan View of Deokon Gold-Silver Project. Note the recently identified Golden Surprise vein system identified in the east returning high grade gold and silver from float samples.
Further field work completed in April - June 2019 located the outcrop representing the source of the bonanza grade gold-silver float sample found during reconnaissance. The area was named the 'Bonanza Zone' and the outcrop has identical vein textures, alteration, and abundant visible silver sulfosalts, native silver and what is likely silver-rich electrum as the float.
In addition, another new area of extensive outcrop, the 'Thorn Zone', was located 500 m to the north of the Bonanza Zone. Combined, the two zones represent a mineralised vein corridor of more than 500 m that remains open in both directions, and was collectively named the 'Golden Surprise Trend'.
Six holes for 455.52m at 'Bonanza Zone' were drilled in the maiden diamond drilling program at Deokon in late 2019. This was a first pass scout program to test the Bonanza Zone outcrop with close spaced drilling to determine the previously unknown true width of the mineralized zone and determine representative gold and silver grade.
Peak results from the drilling included:
• 0.15m at 4.59g/t Au, 708g/t Ag from 42.35m in DKDD004
• 0.23m at 1.13g/t Au, 211g/t Ag from 41.77m in DKDD004
• 0.34m at 1.4g/t Au, 8.1g/t Ag from 26.78m in DKDD002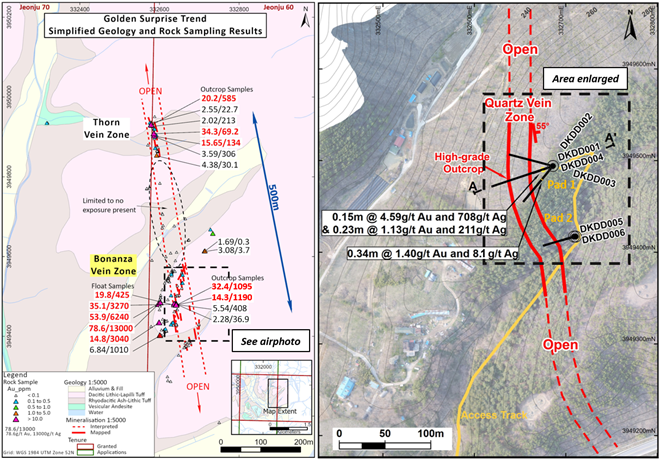 Figure 4: April - June 2019 sampling results and planned drilling at Bonanza.
Highly anomalous silver-gold mineralisation was intersected in the step-back drill-hole DKDD004 compared to the first three flat holes. It is important to note that the intersection occurred in competent, fine-grained lacustrine sediments (poor primary permeability, but excellent secondary permeability and focus where cut by structures), rather than the overlying pyroclastic sequence (high primary permeability and therefore less focus). Bonanza could represent a localised jog in the structure within the overall major structural trend of Golden Surprise. It was concluded that the structural position wasn't optimal for large vein development at that exact site.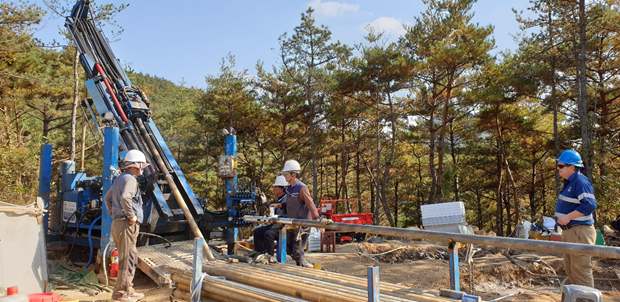 Photo 1: Drilling under the Bonanza Zone outcrop
A total of four holes for 878.31m were then drilled under the 'Shin Adit' workings in 2020. Quartz-sulphide-carbonate veining and flood breccia (lode) mineralisation was intersected but the peak assay was only 0.57m @ 2.56g/t Au and 453g/t Ag from 101.71m in DKDD008. Results were overall low grade, thin width and had limited persistence of veining which didn't warrant further work at the Shin Adit.
The focus then turned to the broader Project area where potential exists for high-grade mineralisation where the fertile structure may dilate and intersect an underlying highly competent, brittle andesite unit; both likely requirements for a significant focused vein. Follow up traversing in late 2020 in the northern part of the Golden Surprise Trend uncovered two new Prospects along strike of the Thorn zone with a peak outcrop sample returning 8.56g/t gold and 9,260g/t silver at Nettle (Figure 5).
Figure 5 – Recent reconnaissance sampling extending the Golden Surprise Trend further north of the Thorn Zone
| | | | | | | | | |
| --- | --- | --- | --- | --- | --- | --- | --- | --- |
| Sample No | Sample Type | Au g/t | Ag g/t | As ppm | Sb ppm | Easting | Northing | Elevation |
| KRS206762 | Outcrop | 8.56 | 8,940 | 4150 | 1110 | 332389 | 3950296 | 245 |
| KRS206591 | Float | 4.49 | 635 | 3040 | 83 | 332484 | 3950105 | 260 |
| KRS206756 | Outcrop | 1.54 | 35.2 | 2280 | 21 | 332394 | 3950296 | 250 |

Table 3 - Significant results (>1 g/t Au) from sampling at Deokon in late 2020
Future Plans
Soil sampling programs over the broader Golden Surprise trend as well as extensions of the current fact mapping is planned to help identify better structural positions. These will then be targeted with scout diamond drilling programs.
Technical Description
Deokon Main Mine
The Main Mine is reportedly comprised of at least six sub-parallel quartz-sulfide veins, mined over a strike length of approximately three-hundred-and-fifty metres, on nine production levels between 320 mRL and 60 mRL (260 vertical metres). Mining apparently utilised shrinkage stoping, with all levels connected by an internal shaft and access decline (Figure 5). Vein widths ranged between 0.3 m and 1.0 m based on historic channel sample data.
Figure 5: Cross-section and long-section views of the Main Mine, highlighting the poorly tested nature of the high-grade mineralisation.


Mines Department records between 1958 and 1980 indicated minimum production totals of 37,706 oz of gold and 2,358,045 oz of silver; however, gold production figures between 1978 and 1980 were not declared by the operators. The Korean Mining Promotion Company (KMPC, a precursor of KORES), conducted several diamond drilling programmes and underground resource determination works from the late 1970's through to 1981. Three diamond holes were drilled in 1977 (DDH 77-1 to 77-3), four holes in 1978 (DDH 78-1 to 78-4) and a further three holes in 1979 (DDH 79-1 to 79-3). These drilling programmes intersected silver-gold mineralisation, yet only a few selected intervals were sampled and assayed, with the remaining unsampled drill core discarded in dumps on site. An extension to existing underground workings were recommended, yet not undertaken. During 1981, the KMPC conducted a Self-Potential (SP) geophysical survey to test for along strike extensions to mined veining to the southwest of the mine. The results of this survey are unknown, however, four further drill holes were completed in 1982 (DDH 82-1 to 82-4).
Shin Adit Mine
Gold-silver mineralisation present within the Shin Adit Mine is epithermal Intermediate-Sulphidation type. Hydraulic quartz-sulphide vein to lode breccia (Figure 6) is within a strongly silica-illite/adularia-pyrite altered dacitic to rhyolitic volcanic host rock. Underground exposures of mineralised vein and lode dip at 72 degrees towards the east.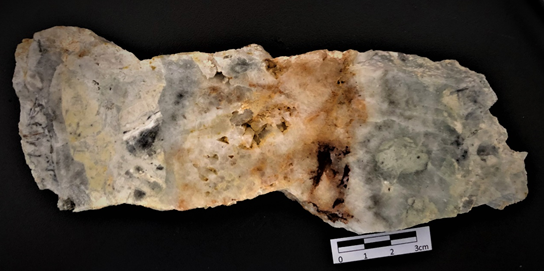 Photo 2: Slab photo of KRD500525 (coarse duplicate of KRD500522), 16.45 g/t gold and 711 g/t silver. Hydraulic vein breccia, comprised of angular silica-illite/adularia altered rhyolite fragments, set in a mesocrystalline silica-sulphide flood matrix with later cross-cutting coarsely crystalline quartz veining.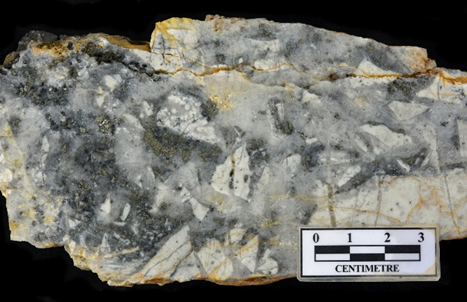 Photo 3: Sample KRS205254, Shin Adit. Hydraulic vein breccia, with angular rhyolite clasts, set in a flood mesocrystalline silica-sulfide matrix (pyrite, chalcopyrite, silver sulfosalts). 13.3 g/t Au and 2,130 g/t Ag.

Photo 4: Sample KRS205231, Shin Adit. Hydraulic vein breccia, comprised of white silica-illite/adularia altered rhyolite fragments engulfed by mesocrystalline to crystalline quartz with coarse-grained sulfides (pyrite, tetrahedrite & silver sulfosalts). 9.23 g/t Au and 1,080 g/t Ag

Photo 5: Sample KRS205229, Shin Adit. Hydraulic vein breccia, comprised of white silica-illite/adularia altered rhyolite fragments engulfed by mesocrystalline to crystalline quartz with coarse-grained sulfides (pyrite, tetrahedrite & silver sulfosalts). 7.65 g/t Au and 558 g/t Ag.

Photo 6: Sample KRS205409, Shin Adit. Hydraulic vein breccia. Brecciated dacite, pervasively silica-illite/adularia altered, with a flood crystalline interlocking to mesocrystalline quartz-sulfides event. 4 g/t Au and 681 g/t Ag.
Golden Surprise Trend
Precious metal mineralisation in the Golden Surprise vein corridor is localised in relation to a north to northwest trending 1,000-metre-long and up to 50-metre-wide corridor of sheeted to networked silica veining, within which the overall vein envelope dips between 41 to 83° to the east-northeast. The silica vein textural features and geochemical signatures are interpreted to be indicative of an overall epithermal system, characterised by a component of lithologic controlled lateral fluid flow and resultant alteration/ore metal zonation.
Petrologic studies of surface rock chip from the Golden Surprise Trend define mineralisation in paragenetic association with low-sulphidation, epithermal style alteration of proximal acid pyroclastic or diatreme-like rocks, with a higher arsenic and lower lead trend in whole rock geochemistry and mineralogy possibly defining a more distal hydrothermal out-flow/up-flow in the Thorn Zone relative to the Bonanza Zone in the south.
Native gold/electrum, native silver, argentite, proustite and possible silver (and lead) selenides defines precious metal mineralisation in paragenetic association with the low-sulphidation, epithermal style hydrothermal fracture-fill and breccia cement in rocks from the Thorn and Bonanza Zones. More abundant native silver in paragenetic association with galena characterises the mineralogy and geochemistry of rock from the Bonanza zone, whereas precious metal mineralogy, including proustite, in association with abundant arsenopyrite/arsentiferous pyrite characterises mineralogy and geochemistry of rock from the Thorn Zone
Some samples consist of pervasive and intense silica-illite clay-replaced rhyolite dyke margins. The hydrothermal alteration and vein textures are indicative of a high paleo-hydrological level of exposure, that is likely higher than that observed at the Shin Adit.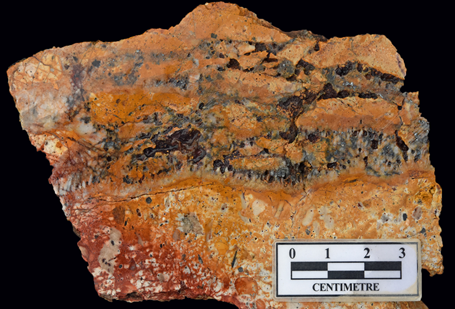 Photo 7: Float sample KRS205352, 78.6g/t Au and 13,000 g/t Ag. Strongly hydraulically brecciated & silica-illite/adularia altered rhyolite, cut by a commutated wall-rock & crystalline quartz vein. Bonanza Zone.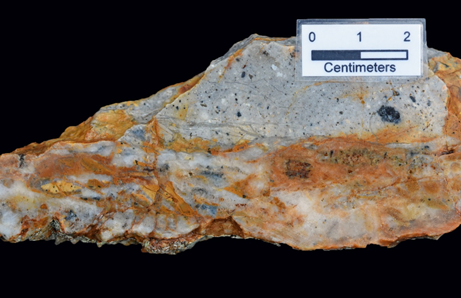 Photo 8: Outcrop Sample KRS206311, 20.2g/t Au and 585g/t Ag. Intensely silica-illite-pyrite altered and limonite-stained, dacitic lithic tuff to tuffaceous sandstone. Cut by a 2 cm wide, limonite-stained mesocrystalline to interlocking crystalline quartz vein hosting segregations of bluish-grey silver sulfosalts and sulfides. Thorn Zone.