Introduction
Southern Gold considers South Korea as highly prospective for new metalliferous deposit discoveries. Limited systematic modern exploration has been done in the Korean Peninsula, in comparison to similar belts of rocks to the northeast (i.e. parts of Japan and Russia) as well as to the southwest (i.e. in China) that both host numerous significant gold deposits.
Southern Gold also has several key people with proven discovery experience globally as well as within South Korea, including Advisor Doug Kirwin (ex-Ivanhoe VP Exploration and discovery of Eunsan/Moisan deposits) and Consulting Geologist Craig Panther (Exploration geologist with extensive experience throughout Asia-Pacific). Southern Gold believes that with the use of modern exploration methodologies and experienced people with proven discovery track records, gives it a significant strategic advantage to develop, recognise strategic assets for acquisition, and explore for deposits in South Korea.
Southern Gold's portfolio of tenements in South Korea includes a significant number of historical gold mines. Brownfields exploration is done in and around these areas to test for further mineralisation.
Ongoing Project Generation across the southern half of the Republic of Korea continues to identify numerous exciting prospective epithermal systems, including recently granted tenure, as well as several other projects which are being prepared for application or acquisition. This highly active Project Generation programme is evidence of Southern Gold's strategic approach to developing a portfolio of high-quality value-adding commercial opportunities within highly prospective rocks in South Korea.
Detailed mineral system models and an understanding of various epithermal target types have only been developed in the past 25 to 30 years. Little modern exploration for this target type has taken place in South Korea outside the work of Ivanhoe Mines in the 1990's. However, much of this data is available to Southern Gold through the engagement of Douglas Kirwin as technical advisor.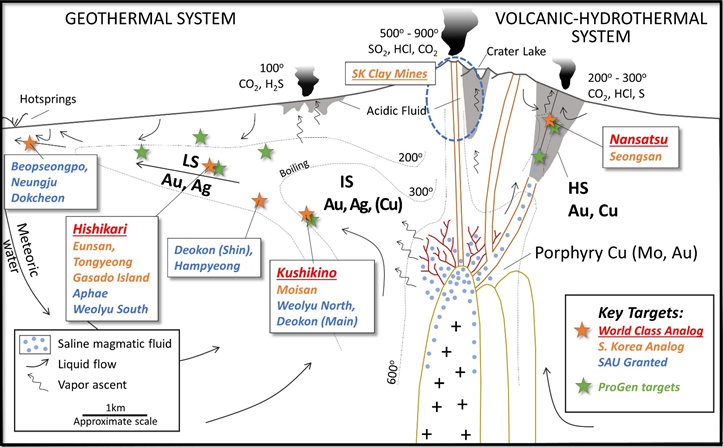 Figure 1. A schematic of the setting of high-, intermediate-, and low-sulphidation (HS, IS, LS) epithermal systems (modified from Hedenquist et al., 2000). Note: Hishikari 2016 production approximately 193koz Au @ average grade of 30g/t Au. Grades of more than 5,000g/t Au and 14,000g/t Ag have been recorded from samples at Hishikari.
A schematic of the setting of high-, intermediate-, and low-sulphidation (HS, IS, LS) epithermal systems is illustrated in Figure 1 above. Of note is the key world-class analogues, like Hishikari (LS), Kushikino (IS) and Nansatsu (HS) (all from southern Kyushu in Japan, see inset Figure 1) and their related analogues as evidenced in South Korea, including the historic Tongyeong Mine, and the more recent and still active Eunsan-Moisan gold-silver mines in South Korea. Southern Gold's portfolio of epithermal targets covers the whole spectrum from high-level low-sulphidation epithermal vein systems, to mineralised low-sulphidation systems, to intermediate-sulphidation systems, to high sulphidation gold-copper systems. Significantly, many of the higher-level epithermal systems Southern Gold has in its portfolio have significant depth potential.